Američki znanstvenici iz David Geffen School of Medicine, University of California, Los Angeles, otkrili su da je varijanta gena CACNA1G, koji se nalazi na 17. kromosomu, povezana s većim rizikom za razvoj autizma, posebice kod dječaka.
Gene Gives Clues to Why Autism More Common in Boys

(HealthDay News)
by -- Robert Preidt
Updated: May 20th 2009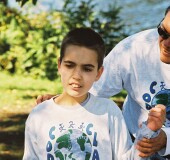 WEDNESDAY, May 20 (HealthDay News) -- A new gene variant that may increase the risk of autism, particularly in boys, has been identified by U.S. researchers.
Analysis of the DNA of 1,046 members of families with at least two sons affected by autism revealed that a variant of the gene CACNA1G, located on chromosome 17, was consistently associated with autism, the researchers reported.
This variant of the gene, which helps move calcium between cells, is present in about 40 percent of the population.
"This is a strong finding," Stanley Nelson, a professor of human genetics at the David Geffen School of Medicine at the University of California, Los Angeles, said in a school news release. "No one has scrutinized the role that CACNA1G plays in autism."
"We found that a common form of the gene occurs more frequently in the DNA of families that have two or more sons affected by autism, but no affected daughters," Nelson said. "Our study may explain why boys are more susceptible to the disorder than girls."
Autism affects boys four times more often than girls.
The researchers did not determine how the CACNA1G variant contributes to autism risk, but Nelson said that it cannot be considered a risk factor on its own.
"This variant is a single piece of the puzzle," he said. "We need a larger sample size to identify all of the genes involved in autism and to solve the whole puzzle of this disease."
The study appears online in the journal Molecular Psychiatry
http://www.mentalhelp.net/poc/view_doc.php?type=news&id=119214&cn=20